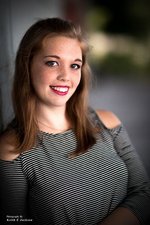 Hope Jones
The Alcorn Career and Technology Center is pleased to announce that Mary Hope Jones has been named the ACTC Rotary Student of the Month for September. Hope, the daughter of Christy and Lee Jones, is a senior at Kossuth High School. She is a program completer in Health Sciences at the ACTC and was nominated for this honor by her Health Sciences instructor, Mrs. Tila Johnson.
At the Alcorn Career and Technology Center, Hope is a HOSA Member and will soon be inducted into the National Technical Honor Society.
Hope performs well academically and scored a 23 on the ACT. At Kossuth High School, she is a member of FCA, FBLA, and KHS Bowling Team, which won the 2016-2017 state championship.
Hope is a member of Holly Baptist Church, where she has taught Vacation Bible School and a Bible study the second Tuesday of every month. She also babysits children while their parents are involved in church activities. Additionally, her community service involves working in the concessions booth at ballgames, assisting with the Alcorn County Disaster Drill, and helping Wal-Mart raise money for Lebonheur, each year.
In addition to her various school and church activities, Hope also works a part-time job at Taco Bell.
After graduation, Hope plans to attend Northeast Mississippi Community College, where she plans to earn her Associate's Degree in Nursing. After becoming an RN, she aspires to become a travel nurse. She also plans to use her talents in the field of medical missions.