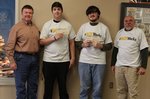 (L-R) Lane Bell, Dukie Peebles, Tyler Phelps and Steve Shaw
Local Students Earn Statewide Honors in MCEF Video Contest
Competition encourages greater understanding of career and technical fields
PEARL, Miss. –Members of the Alcorn Career and Technology Center are first place winners in the statewide #MCEFWorks video contest.
Sponsored by the Mississippi Construction Education Foundation, the competition invited Mississippi students in grades 7-12 to make short videos highlighting the many ways that construction and manufacturing education programs are helping students achieve their dreams.
Instructor Steve Shaw discovered the contest online and approached photographer Duke Peebles and editor Tyler Phelps about entering. The winning video features interviews with craft students Justin Simmons and Jordan Chadwell.
Peebles and Phelps employed a creative blend of graphics and work demonstrations to show how success is being redefined for more than 5,000 career and technical education students throughout Mississippi.
For their impressive work, they are being awarded cash prizes and a set of sporty new #MCEFWorks T-shirts.
"Participants were encouraged to be creative and communicate a clear, cohesive and memorable message about how career and technical education programs are preparing Mississippi students for successful futures," said Mike Barkett, MCEF president. "The students at Alcorn Construction and Technology Center did an excellent job of telling our story in a fresh and engaging way."
In addition to impressing a panel of industry judges, team members finished high in a public voting campaign. The process brought together students in a social media initiative that spotlighted the class video while raising awareness of how MCEF is helping build Mississippi's workforce of the future.
"Making the video was truly a team effort, and we thank MCEF for allowing us to share the many positive ways that our students are preparing for the future," said Shaw. "It is our hope that our entry will inspire younger students to pursue opportunities through career and technical education."
Counselor Jennifer Koon agreed.
"We chose two outstanding students to tell our story," she said. "Both are active in our center's dual credit program, and it's easy to see their excitement about learning skills they will use for years to come."
Pointing out Mississippi's need for more than 80,000 craft professionals by 2019 to support the state's growing construction industry, Barkett said his team is working to ensure those jobs are filled by qualified Mississippians who have graduated from one of the state's accredited career and technical education programs.
"MCEF offers world-class training programs that give students a solid foundation for the future," Barkett said. "Many high school graduates go on to earn degrees, start businesses and contribute to the growth and prosperity of our state. We congratulate Alcorn Career and Technology Center and their fellow students from around the state for celebrating the many success stories made possible by career and technical education programs in Mississippi."
The mission of the non-profit MCEF is to promote careers, recruit capable individuals and train a quality workforce for the construction and manufacturing industries in the state of Mississippi. MCEF also offers workforce training and credentialing in construction, industrial maintenance and manufacturing trades.
To view the Alcorn video, visit https://www.youtube.com/watch?v=XE-ofjGkZIs. Learn more about MCEF at http://mcef.net.